Smart Healthcare Command Centers: Utilizing Data Integration to Improve Quality and Efficiency
09/10/2019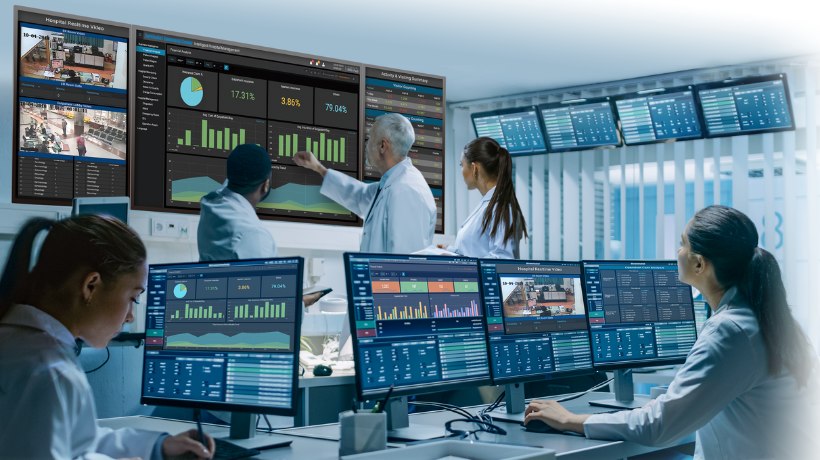 Author: Pejun Liao
Photos: Advantech
Interviewee: Advantech iHealthcare Sales Manager | Anita Lee
Smart healthcare has become a top priority in the global healthcare industry in recent years. The application of new technologies such as cloud computing, IoT, data analysis, and AI to improve efficiency and quality of healthcare services is at the heart of smart healthcare. However, at present, smart healthcare applications primarily focus on medical treatment, e.g., using AI for medical image analysis and diagnosis. There are still relatively few applications that focus on healthcare management. This underlines the lack of attention to the contributions that management aspects can make to enhancing efficiency and quality of healthcare services.
According to Anita Lee, Sales Manager at Advantech iHealthcare, healthcare management covers many different aspects, including not only human resources administration but also the functioning of hospital facilities and assessments of whether provided healthcare services meet regulatory standards and patient needs. To achieve high-quality healthcare management, data integration and real-time data visualization are vital.
When the manufacturing industry transitioned to industry 4.0, data on basic equipment, production, and factory environment was integrated in command centers, enabling supervisors to properly monitor the production status in their factories. Similarly, the healthcare industry should build data-driven smart healthcare command centers where all data related to medical equipment, patient wards, outpatient clinics, the overall environment, and patients' physiological information are integrated on single platforms. Such platforms can provide meaningful and critical data for medical and administrative staff to make appropriate decisions.
Data-driven Healthcare: Smart Command Centers
Smart healthcare command centers must include hospital process management, real-time monitoring, and operational efficiency management.
With regard to hospital process management, four specific areas can be identified: outpatient clinics, patient wards, emergency rooms, and operating rooms. Operational efficiency of these areas will improve greatly through integrated data analysis. For example, resource management is one of the most important aspects of emergency rooms. In the event of a major car crash, for instance, emergency rooms could be confronted with a large number of patients in a short period of time. If medical resources are not readily available, treatment of patients could be affected. Integrating data on a single platform through a smart healthcare command center can be of great help to medical staff in utilizing resources.
The four main elements covered by real-time monitoring are indoor air quality, energy management, smart monitoring, and equipment location management. During the day, hospitals are filled with patients and their families and therefore require real-time monitoring and management to ensure smooth operations. For example, as the number of patients increases, the exhaust ventilation of air conditioning systems can be activated so that fresh air is brought into the building, the concentration of carbon dioxide is lowered, and indoor air quality is maintained. Efficiency can be further improved through location management systems that accurately keep track of medical equipment, so that medical staff can easily locate machines when needed.
Operational efficiency management covers hospital operation overview; financial analysis; the number of outpatients, inpatients, and emergency patients; and healthcare quality indices. Finding operational blind spots through data analysis can bolster healthcare quality and efficiency. Meanwhile, different healthcare quality indices exist for patients with acute, chronic or long-term conditions, such as nurse-patient ratios, nosocomial infection rate, bed occupancy rate, and patient fall rate. A smart healthcare command center can produce related statistics automatically, and also take into account hospital accreditation standards to produce related reports and charts, which saves the hospital considerable time and effort in conducting accreditation procedures.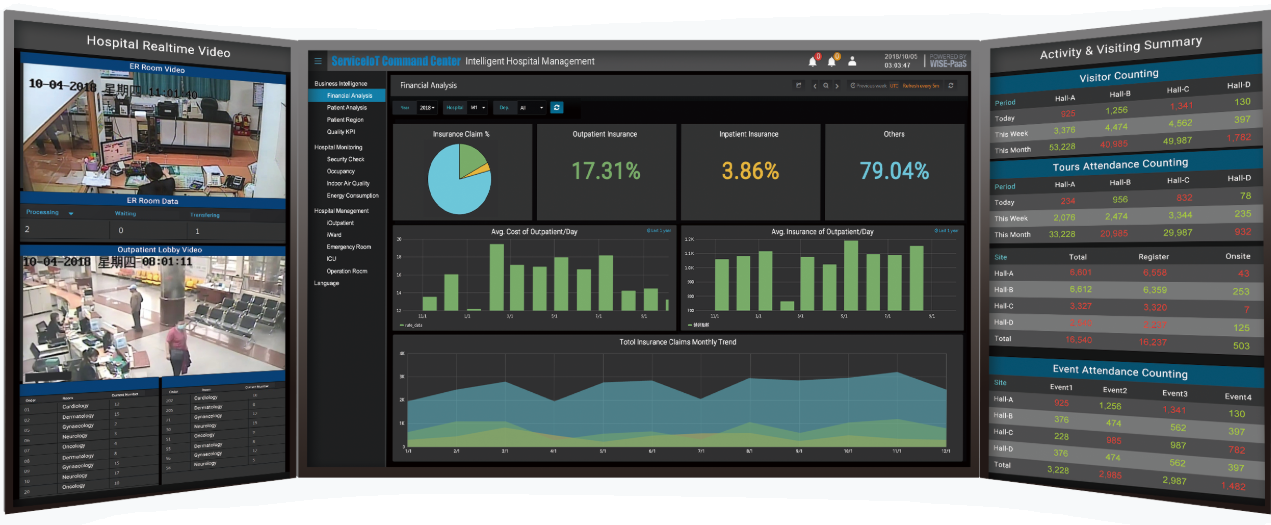 WISE-PaaS: Data Integration Platform for All Industries
Anita Lee emphasized that in order to create a data-driven smart healthcare command center, it is essential to integrate existing information systems such as PACS and HIS, build the center from the ground up, and collect patient and medical data through various kinds of sensors. Also, data storage and management standards must be clearly defined. Most importantly, users must carefully consider data application methods, i.e., which clinical systems and hospital management processes can be improved through the use of available data.
It is thus evident that data integration platforms are pivotal. Advantech's WISE-PaaS cloud platform, which was first used in the field of industrial IoT, has evolved to become an ideal solution for applications across sectors. The platform supports databases of different formats, as well as popular public cloud services such as Microsoft Azure, Amazon AWS, and Alibaba Cloud. In other words, in addition to a private cloud, healthcare users can opt to build their operation centers on public clouds, benefiting from the low costs and high flexibility of cloud services. The WISE-PaaS platform also provides a dashboard module that allows IT staff to easily visualize data and supervisors to instantly see important information.
Moreover, Advantech offers an industrial software and hardware integration solution—Industrial APP (I.APP)—and data collection solution to help healthcare users comprehensively gather relevant data. For example, outpatient clinic registration solutions can collect data such as patient waiting and appointment times. And the smart ward solution can analyze when patients are likely to call nurses and for what reasons.
In the future, data will serve as the foundation of all applications. Although there are vast amounts of data in the healthcare sector, this data is often very fragmented and dispersed. By collecting information through sensors, integrating such information on a single platform, and visually presenting it through a smart healthcare command center, healthcare staff can quickly acquire meaningful information that enables them to improve the quality and efficiency of healthcare services. Indeed, this is the key purpose of a smart healthcare command center.