Advantech lança série ADAM-6300【Módulos de I/O OPC UA】para digitalização de IoT
30/03/2021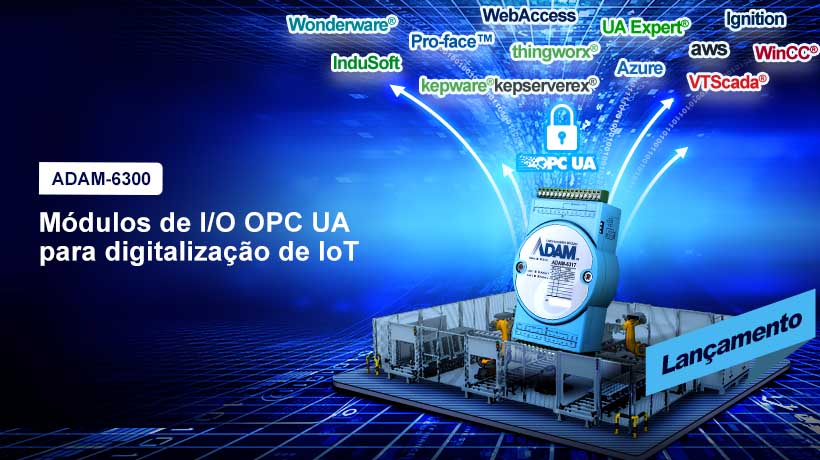 Série ADAM-6300 de nova geração com Dupla Segurança
A Advantech, líder global em tecnologia Industrial IoT, lança módulo de detecção de I/O OPC UA com protocolo Modbus. O ADAM-6300 é uma série de convergência de TI / TA que integra sistemas de tecnologia da informação (TI) com tecnologia operacional (TO
) - representando um salto à frente na tecnologia IoT inteligente para fábricas. Além disso, por meio do OPC UA e do IC de segurança integrado, os dados são altamente protegidos em todos os níveis de TI e TO.
OPC UA capacita usuários de I/O de Modbus a acessar o mundo industrial IoT
Um dos desafios para a transformação industrial da IoT é como integrar perfeitamente um sistema TO existente em um novo sistema de TI. A série
ADAM-6300
responde a esse desafio com suporte para OPC UA e Modbus. OPC UA, abreviação de Open Platform Communications Unified Architecture, é um padrão aberto compatível com a série
ADAM-6300
que permite a colaboração interoperável e entre fornecedores, de máquinas em produção e possibilita a comunicação entre máquinas e sistemas. Os dados de I/Os podem ser processados ​​por meio do Modbus para sistemas TO preexistentes ou integrados no sistema SCADA por meio da nuvem e OPC UA.
I/O OPC UA liga o sistema SCADA e a nuvem sem a necessidade de gateways
Convencionalmente, a maioria das soluções utiliza um gateway de protocolo para converter dados de I/Os remotos em OPC UA, o que requer configuração extra, aumentando o risco do sistema ser atacado por malware já que é necessária a instalação de software no sistema operacional do gateway. Para combater isso, a série
ADAM-6300
foi projetada para se comunicar diretamente via SCADA e nuvem através do OPC UA sem a necessidade de um gateway adicional, economizando custos extras e esforço de integração. Os módulos de I/O OPC UA da série
ADAM-6300
estão prontos para SCADA e provedores de nuvem, como Azure, AWS, Ignition, Indusoft, kepware® kepserverex, Pro-face™, thingworx®, VTScada®, WebAccess, WinCC® e Wonderware® .
Hardware e software duplicam os níveis de segurança para evitar ataques de hackers
A série
ADAM-6300
é equipada com segurança de hardware e software para dobrar os níveis gerais de segurança. A segurança IC projetada fornece proteção em nível de hardware e o software OPC UA adicional aumenta ainda mais a segurança e a criptografia de dados.
Custo-benefício: alta densidade de I/O e solução de ligação em série economizam custos
A série
ADAM-6300
tem alta densidade de I/O e suporta conectividade em série, que é a solução mais econômica para atender a necessidades versáteis. Os usuários se beneficiam da redução de custos no número de módulos de I/O, interruptores, cabeamento e economia de espaço nos gabinetes de controle.
A série ADAM-6300 é a solução mais interoperável, segura e econômica que existe. O ADAM-6300 é altamente recomendado para aplicações como tratamento de água, gerenciamento de máquinas e monitoramento de processos de produção. A nova série já está disponível nos distribuidores certificados da Advantech, canais, parceiros de comércio eletrônico e no site da Advantech. Para saber mais sobre este produto, entre em contato com um de nossos especialistas