Advantech Launches USM-110W ITE-Certified Edge SRP for Diverse Clinical Applications
13/03/2019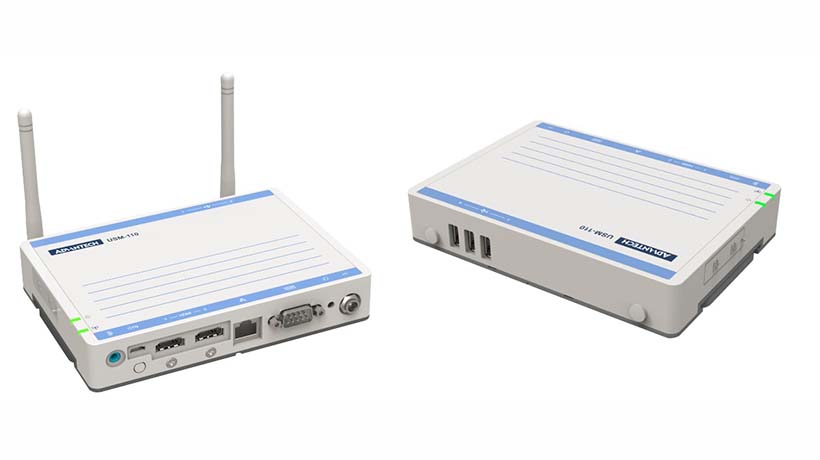 Taipei, Taiwan, March 31, 2019 – Advantech, a leading provider of certified computing systems and digital healthcare solutions, is pleased to announce USM-110W – an ITE-certified edge solution-ready platform (SRP) aimed at diverse clinical applications. Powered by an ARM® Cortex™-A17 quad-core processor with over 5 years longevity support and featuring a dual HDMI interface (supports up to 4K resolution) for video recording and analysis, USM-110W provides a cost-effective, scalable solution for edge-to-hospital information system (HIS) applications. The flexible design of the device cover allows the platform to be easily customized with a specific logo/color or integrated with an LCD panel or high-performance HDD for a reduced time-to-market and easy integration with existing infrastructure.

Certified to relevant ITE safety standards, USM-110W can be deployed as an intelligent hospital room solution, picture archiving and communication system (PACS), data transmission device, nursing station, or hospital edge SRP. Additionally, USM-110W supports Android 6.0, which provides an open source environment for easy software development.
Cost-Effective Solution with Multiple Expansion Options for Diverse Applications
USM-110W is a highly expandable platform that can be integrated with various peripherals to extend the system functionalities for specific usage requirements. The platform's front and rear cover feature multiple easy-access I/O ports that enable convenient connectivity to facilitate effective management of hospital equipment and applications.
Flexible Design for Easy Customization and a Rapid Time-to-Market
USM-110W features a flexible cover design that can be easily customized with a specific brand logo/color or expansion modules for enhanced functionality and easy integration with existing infrastructure. This allows system developers to rapidly develop unique solutions based on the USM-110W platform, thereby reducing the overall time-to-market.
Embedded ARM® Cortex™-A17 processor for efficient high-performance computing.
Supports dual displays (1 x full HD output and 1 x 4K output).
Compatible with a range of mounting options to ensure easy installation.
Equipped with Android 6.0 and can support clients' unique application software.
Multiple I/O interfaces for integrating diverse peripherals and accessories.
Advantech's USM-110W ITE-certified medical-grade edge SRP is available for order now. For more information regarding USM-110W or other Advantech Digital Healthcare solutions, contact your local sales representative or visit the Advantech website at www.advantech.com.
Founded in 1983, Advantech is a leader in providing trusted, innovative products, services, and solutions. Advantech offers comprehensive system integration, hardware, software, customer-centric design services, embedded systems, automation products, and global logistics support. We cooperate closely with our partners to help provide complete solutions for a wide array of applications across a diverse range of industries. Our mission is to enable an intelligent planet with Automation and Embedded Computing products and solutions that empower the development of smarter working and living. With Advantech products, the number of potential applications and innovations becomes unlimited. (Corporate website: www.advantech.com)